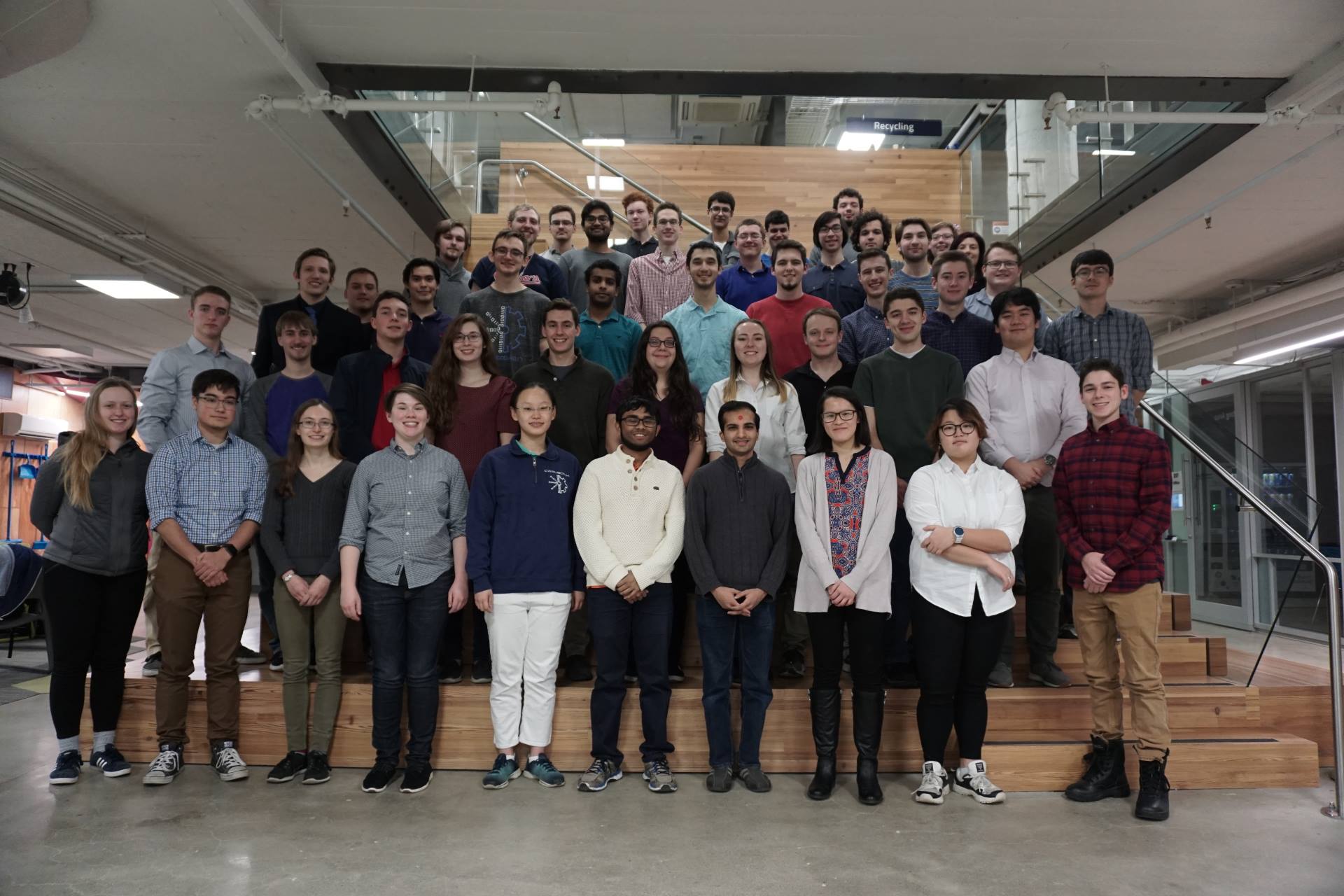 2017 - 2018 Year in Review
As each summer comes to an end, we at CWRUbotix take time to reflect on the achievements of our previous year and plan for the coming one. In the last year, the team grew from 55 members to 62 members. Besides our growth in membership, growth was visible in each competitions that we participated in. We are happy when our missions of building robots and being competitive are a success, and they certainly were this year.
National Robotics Challenge (NRC)
CWRUbotix sent four teams to the National Robotics Challenge in Marion, Ohio this past April for three days of competition. Challenges entered were 6-lb Combat, Non-Tactile Maze, Autonomous Sumo, and Autonomous Vehicle challenges. This was the fourth year of the club's participation in the NRC and each team put up a solid effort that we are proud of.
Notably, the 6-lb Combat Robot took 1st in its category overall, winning the gold award for its stellar performance. This extends the now two year streak of the club's first place finishes in 6-lb Combat category. We look forward to seeing what next year will bring.
NASA Robotic Mining Competition (RMC)
In May, CWRUbotix brought this years' iteration, Glennrique, to the NASA Robotic Mining Competition at Kennedy Space Center. This is the 6th consecutive year that we have attended, and we are proud to say that our year of hard work paid off as we took 4th place overall in the competition. Unfortunate weather plagued the competition this year and due in part to the lack of a practice round, we were unable to score and had some serious malfunctions during the first round.Despite this, we're happy to say that this is our best performance to date, and we're excited to see what the coming year will bring.
A huge thank you goes out to our advisor, Dr. Richard Bachmann, as well as all of the professors and staff that provided us with feedback on the entire process throughout the year, we could not do it without your help.
Year To Come
The club is passionate not only about our past achievements, but also of our future plans. As the school year takes off, we'll be starting our annual Robotics Bootcamp, where we introduce the concepts of robotics to our new members through competing in fun, small-scale challenges.
The club will be sending teams back to NRC and NASA RMC in the coming year. NASA RMC has been promised another rule change as well as a second competition after the first, in which the top 10 teams compete again for another prize. In addition, the club is adding a new competition this year, focused around an underwater remotely operated vehicle (ROV). The competition is run by Marine Advanced Technology Education (MATE), and our members are really looking forwards to it. Stay tuned for more details on the new competition in the coming months.
This year, we are also planning to expand our outreach and community engagement programs in order to better advocate for STEM in the Cleveland community. There is certainly a lot to look forwards to in the coming year, and we would like to take this opportunity to thank everyone who supports us in any way - major or minor- we value everyone in our incredibly supportive network and simply could not do what we do without you.